THE THREE INVESTIGATORS

? ? ?

U.S. EDITIONS

COLLECTOR SITE

Copyright 2000 - 2013.                                Launch Date:  October 3, 2000



Harry Kane's alternative art for the cemetery endpapers, 1964.

Collection of Seth T. Smolinske.

This site is primarily dedicated to helping fans and collectors of The Three Investigators series accurately identify the many different U.S. formats available.

The site also serves as a repository for historical information pertaining to The Three Investigators series that can't readily be found elsewhere.

The site actively promotes the work of both amateur and professional authors and artists inspired by Robert Arthur

and The Three Investigators series.

Finally, this site serves as an ongoing source of

accurate, current Three Investigators findings and information, "Research-In-Progress" if you will.  Enjoy!

WHAT'S NEW?

Updated January 30, 2013.

Get 'em while they're here!

Now Online!
The
"T3I Guide"
the most in-depth guide to all of the original Random House Trade Hardback printings!
LAST UPDATE:  January 30, 2013


Detail from Harry Kane's original 1968 cover painting for "The Mystery of the Screaming Clock."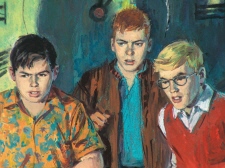 Join us on Facebook where we'll keep you updated with the latest T3I news.  Just click on the link below: